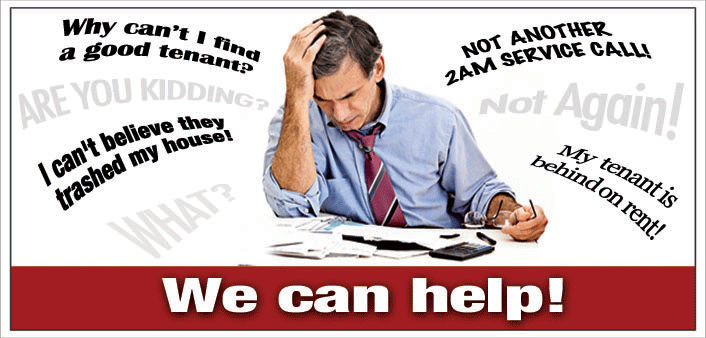 Contact AIM Corporation today to discuss your needs and how you can benefit from our services. We are a full-service property management company and have been established since 1985. Our company charges a small management fee each month, with no hidden commissions, advertising, or leasing fees. Owners are invited to be as involved as they wish with their properties, and are provided with detailed, accurate monthly accounting. AIM Corporation invites you to contact us today – whether you own one property or ten, we can help you!
Having trouble selling your home? • Have you inherited property?
Tenants behind on rent? • Has your rental become a liability?
Why you need a professional property manager…
♦ To minimize your efforts – time is money
♦ Experienced professionals to handle the aggravating details – we take the hassles out of owning investment property.
♦ Knowledgeable in legal proceedings, evictions and collections
♦ Accurate, detailed monthly accounting statements
♦ Experienced in current rental rates
♦ Affordable management rates
---
How We Operate
The owner employs us exclusively to rent and manage their property. We are experienced in everything from single-family homes to multi-unit complexes, and are familiar with all types of rental programs.
We provide rent collections and leasing and advertise vacancies, set rents and do credit checks on prospective tenants. We collect rents, terminate tenancies when necessary and initiate any legal action necessary. We collect and refund security deposits, and relieve the owner of tenant-related complaints and calls.
We offer low-cost maintenance and repairs. Our maintenance staff efficiently resolves tenant maintenance complaints and we routinely inspect the property. We order and supervise all minor repairs and have the facilities to do most major repairs with input from the owner.
We provide monthly accounting records to the owner. We have available to the owner any details regarding maintenance expenditures and we can pay all the labor and maintenance expenses, utility bills and mortgage if the owner so desires. Our goal is to provide the owner with the maximum occupancy with the most efficient outlay of operating expenses.
The owner agrees to maintain the necessary insurance and provide us with copies of all policies, to save us harmless from all suits and proceedings in in conjunction with the property. The owner also agrees to pay us a specified percentage of the monthly gross rents, or a set minimum, whichever is greater.
It is mutually agreed by both parties to sign a Management Agreement, which fully explains in detail all of the above-mentioned items for a period of one year.
Why do you need a professional property manager?
Our experienced professionals can efficiently handle the details of managing your property, freeing you to handle more important issues.
We understand the local market:

We are known in the area and our name rents units.
We are experienced in local rental rates.
We are Western Michigan University approved.
We advertise your rental properties through our online Internet rental database and through our classified ad contracts with the Kalamazoo Gazette.

We welcome the small investor and individual owners and encourage our customers to be as involved with their property as they wish.
We are knowledgeable in collections, evictions and legal proceedings, and will supply you with accurate, detailed monthly accounting statements.
We supply low cost maintenance service, handling of any minor repairs and insuring proper handling of any major repairs approved by the property owner.
What are the benefits of having a professional property manager?
We'll save you time, work, and stress:
You don't have to hire someone to clean, paint, or make repairs.
You don't have to advertise, take rental calls, and show the property.
You don't have to screen applications and be apprehensive about who to pick.
You don't have to execute a rental agreement, worry about adding addendums, fill out the move-in
inspection report, and deposit money.
You don't have tenants calling at all hours of the day and night.
You don't have to confront tenants on tough issues like collecting rent or taking better care of the property.
You don't have to collect NSF checks.
You don't have to serve legal notices or start an eviction.
You don't have to schedule and fill out the move-out inspection report.
You don't have to mail the tenant's accounting report and refund check.
You don't have to start the process all over again.
You don't have to worry about the property or be shocked by its condition when you hire a Professional
Property Manager.
Your leasing and management fees are usually a tax deduction.
Professional Property Managers are dedicated to selecting quality tenants and keeping your investment in good repair with minimal cost. They want your real estate investment to be a success not a failure.
What distinguishes a professional property manager from other landlords?
Do you know all of the landlord/tenant laws for your city, state, and federal government?
Do you know rent values, vacancy factors, and time on the market in your area?
Do you have a rental application and consistent screening policies that meet all of your legal obligations?
Do you take the time to perform thorough move-in/move-out written -inspections and routine property
inspections?
Do you personally know a reputable painter, electricians, roofers, chimney cleaners, carpenters, furnace and
appliances repairmen who are licensed, affordable, and reliable?
Do you effectively confront and negotiate with the tenant and enforce the terms of your rental agreement?
Do you have the ability to recover NSF checks, evict tenants, and collect bad debts?
We do!